A stunning collection of beautifully designed, not-your-typical holiday greeting cards.
This Wood Certainly Stand Out
Printing a Christmas message on wood achieves a more natural and organic aesthetic. This card by Elly Ang for Collective 88 has a brown and grey color palette that works beautifully with wood.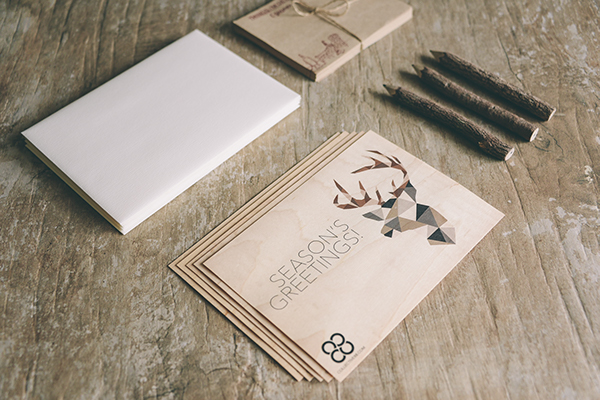 For The Love of Fonts
Luca Milani's cards combine his love of the Britannic Bold font with the charm of Christmas: brackets become tree branches; asterisks become snowflakes; and the figure 8 becomes a very portly snowman.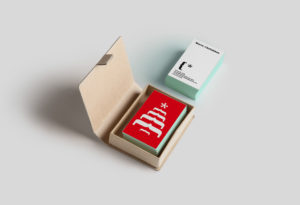 Transforming Typography
Áron Jancsó's calligraphic lettering cleverly transforms the words 'Merry Xmas' into the shape of a Christmas tree. His work is elegant, graceful and achieves the perfect balance between font-weight and form.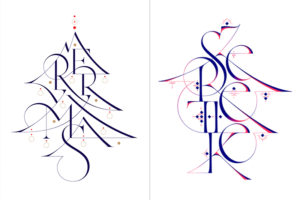 Rudolph's Hex-Coded Nose
This card was designed by your's truly – me. I replaced the word "red" with the color code #ff0000 which will always be recognized by fellow graphic designers as the equivalent of red. The mix of typographical styles is playful – in aiming at achieving the perfect balance between hand-drawn and clean-organized. If you would like to order these cards please do not hesitate to contact me 🙂
The Holiday Card for Nerds
This Christmas card by Code-Cards has literally written the seasonal message in code with CSS coding on the outside of the card rendering the greeting on the inside of the card in Requiem Ornament all-caps font.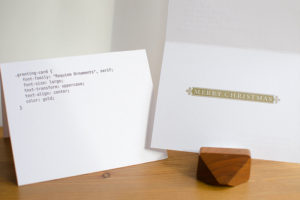 Bespoke Digital Snowflakes
Using their knowledge of digital technologies in both screen and print, Ideas Factory created a bespoke web application which generates a unique snowflake based on the mathematical values of the recipient's name.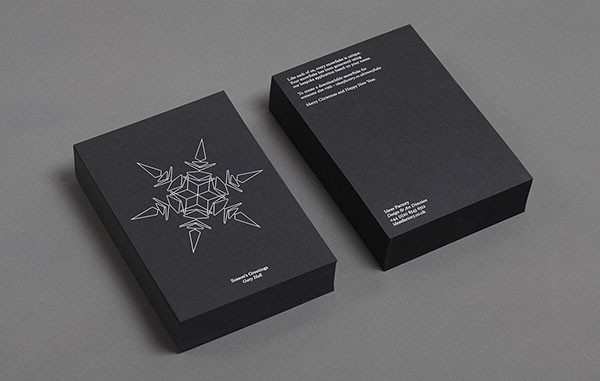 Old Technique, Modern Designs
These minimal geometric letterpress cards by Thomas Printers feature bold colors and textures juxtaposed with recycled heavy-weight premium paper. They are playful, fun and have a wonderful texture to touch.