Beiersdorf
App Design, Identity, UX / UI Design, Video
"SmartDerm" – an App that provides real-time weather and UV index data while monitoring and improving your skin. This App also recommends Beiersdorf products specific to your skin needs.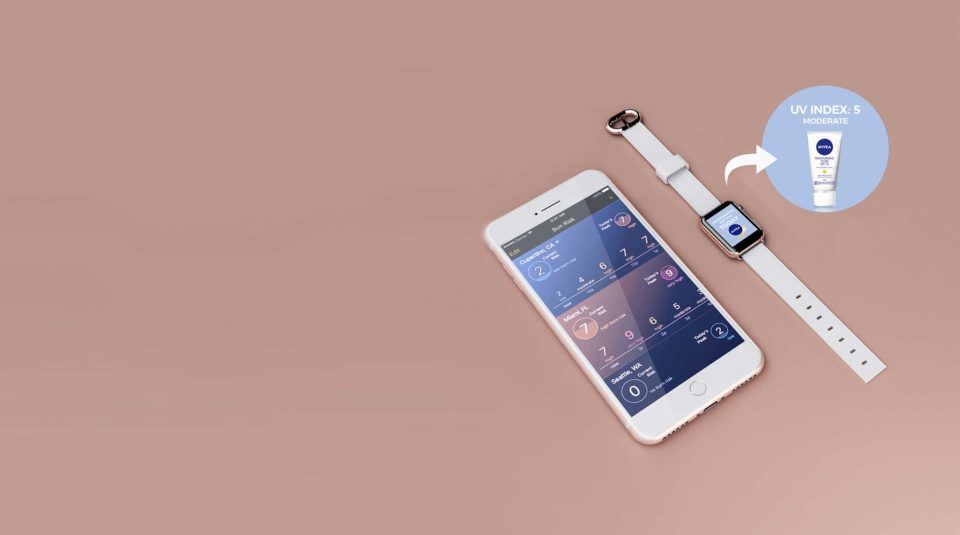 Services
Creative ideation based on market and trend analysis provided by Beiersdorf, with 4 key elements: personalized service, emotional connection, experience through new technology, ability to share via key social channels.
Objectives
To research, evaluate and propose new and innovative experiential marketing strategies for Beiersdorf brands – NIVEA and Eucerin with a focus on Female Consumer Engagement.
Solutions
An array of strategic, consumer-engagement concepts were delveloped. These ranged from the "SmartDerm" App to "Nivea Drone Zone" experiential sampling on the beach, to an engaging emotionally driven 30-second TV spot.
"SMARTDERM" AN EVERYDAY APP FOR EVERYDAY USE
Smartphones are one of the most personal items we carry with us everywhere. Our design thinking process considers smartphones as a gateway, a conduit to one's emotions.

Many factors can affect skin – this app focuses on 2 key factors: – Weather / UV index and Personal Skin Needs

The Smartderm App delivers real-time weather data ––– and advice on which product to use according to your personalized profile.

An additional feature of the app is the ability to introduce new products to the consumer to drive both online and offline product acquisition.
"DRONE ZONE" PRODUCT SAMPLE DELIVERY BY DRONE
"NIVEA Drone Zone" parameters established with wifi enabled. Users can download app which will also show the "HQ Tent" where fleet of drones is based.

After receiving a request, drone will find users by geolocation and eject product sample pack from 4-5 meters height.

Users have the option to activate drone camera to capture photo. They will receive photo via bluetooth which can then be shared via social channels.